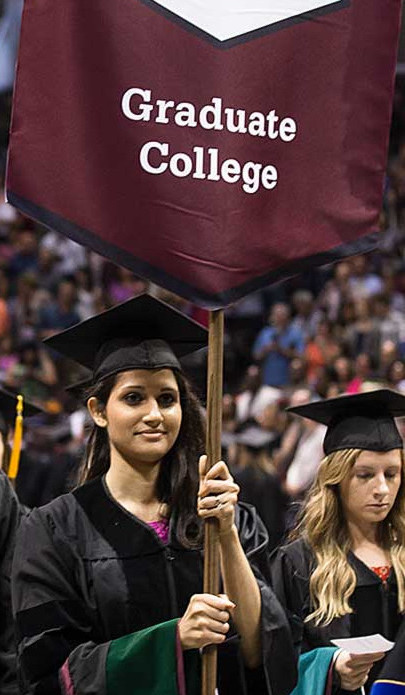 The first MSU graduate thesis was submitted in 1968. Since then over 3,600 theses have been submitted as part of graduate work at MSU.
Since the fall of 2008 graduate students have been required to submit their thesis in electronic form. Online access to most theses from 2008 to the summer of 2015 is available only on campus. Print copies of all theses up to summer 2018 are available in Meyer Library and in most cases through inter-library loan.
Did you submit a thesis as part of your graduate studies at MSU before 2015? If you would like to see the text of your thesis on this site please contact BearWorks@library.missouristate.edu
Theses from 2007
Strategy in Space: Promoting America's Security in the Twenty-First Century, Michael S. Onesko
Revelation Springs, Ross Payton
Changes in Bolus Transit as an Effect of Vitalstim Intervention: A Case Study, Jane Eloise Peterson
Effects of Social Motivators for Two Individuals with Aphasia, Kristel Cherisse Powell
Nanoscale Analysis of Carbon Nanotubes Deposited on Highly Oriented Pyrolytic Graphite, Chentanreddy Ramireddygari
Further Investigations of Cytotoxic Metallo Cyanoximates, Jessica L. Ratcliff
The Relationship Between Visual Scanning, Heart Rate, and Cognitive Functioning, Sissy Ratliff-Seamans
The Rite of Passage: Unification of the Vocal Registers, Lacey Renee Rector
How to Humanize a Zoning Ordinance: Practicing the Art of the Possible While Writing Laws for Bureaucrats and Citizens, Robert Stephen Reed
Secondary Mathematics Teacher Collaboration in a Professional Learning Community: Impact on Student Achievement on the Missouri Assessment Program, Jay Brian Roth
Oil and Conflict: Future Avenues to Inter-State Wars, Russell W. Roth
The Lay of Beowulf, Arden Reed Roye
Group Effectiveness as a Function of Leader Intelligent Use of Emotional Displays, Jared J. Russo
Discerning a Pattern in Chinese Espionage: An Analysis of Chinese Espionage Methodology Contrasted Against Cases of Chinese Espionage, Michael J. Schwartz
The Elements and Theory of High Energy Warfare: A Twenty-First Century Revolution, Daniel Andrew Shellenbarger
Age Attenuated Cutaneous Vasoconstrictor Response to Norepinephrine Is Apparent with Bretylium Tosylate, Daniel Skirrow Short
Influence of Physical Stress, Sex, and Body Size on Metabolic Rates of Ozark Zigzag Salamanders, Plethodon Angusticlavius, Kyle M. Shull
Competing for the Minds of America: Does the Teaching of Evolution in High Schools Promote a Naturalistic Worldview?, James Shuls
The Office of Net Assessment and U. S. Defense Policy: 1973-Present, Thomas M. Skypek Jr.
Effects of Ethnicity on Taster Status, Jessica Smith
Electrospinning: Constructing the Apparatus and Synthesizing Polymer Fibers, Nathaniel Douglas Smith
Adolescent Perception of Moral Communication Sources, Kate Yurka Spangler
The Edged Coins Can Smart: Mervyn Peake's Titus Groan and the Semiotics of Late Modernism, Carl A. Stewart
Synthesis and Investigations of Several Dibutyltin (IV) Cyanoximates, Jennifer Synder
Perceived Educational Experiences and Employment Preparation of Agriculture Alumni, Rebecca Lea Thomas
The Effect of Appearance of Apple Juice Thickened with Starch and Gum-Based Agents, Molly Trautschold
Bent and Orphaned: Shakespeare's Disappearing Mothers, Alisha Joy Tuttle
Global Islamism: The Threat to Western Civilization, Nicholas Longley Van Zandt
North of Sixty-Six, Adam Veile
A Novel Method For Fabrication of Carbon-Based Semiconductors, Craig Joseph Vera
Workplace Integrity: An Examination of the Relationship Among Personality, Moral Reasoning, Academic Integrity and Counterproductive Work Behavior, Renee Christine Vincent
A Matter of Marching, a Matter of Supply: Politics and Logistics in Arkansas, 1863-1864, Alfred Hoyt Wallace
Effects of Goal-Structure-Based Planning on Leadership and Group Process, Philip T. Walmsley
The Relationship between Reaction Time and Intelligence Revisited: The Effect of an Alternative Calculation for Choice Reaction Time, Ryan W. Walters
The Economic Impact of Commercial Equestrian Trail Rides in the South Central Missouri Area, Katie E. Welker
A Systematic Investigation of the Linearity of Liquid Flow Under Line-Spread Testing, Miranda J. White
Changing Sexist Language: Intercollegiate Debate as a Laboratory for Change, Kelly L. Winfrey
Gender Differences in Spatial Ability: A Mixed-Methods Investigation of the Solution Strategies Used by Boys and Girls to Solve Problems Involving Spatial Tasks, Melissa Marie Wittmer
Dynamics for Democracy: Scenarios for Democratic Revolution in the People's Republic of China, Jason Douglas Wood
Theses from 2006
Regulation of Calcitonin Gene-Related Peptide by a Methanol Extract of Theobroma Cacao, Marcie J. Abbey
Gritty Girls Undone: The Unraveling of Gender Fluidity in Pat Cadigan's Synners, Arminda Apgar
Fragmentation and Re-Construction: Folklore and Metanarration in Jane Yolen's Briar Rose, Genevieve S. Baumann
Viscosity Of Red Wine Over Time When Mixed With Starch- and Gum-Based Thickeners: Implication for Elderly Adults, Christine Best
Facilitation of the Innate Need of Relatedness Through Self-Regulated Expressive Writing, Bradley M. Bodenhamer
A Discussion of the Mercurius Type Within William Shakespeare's Hamlet, Prince of Denmark Othello, the Moor of Venice King Lear and Macbeth, Scott S. Boston
Some Probabilistic Topics in Finite Group Theory, Christie Dawn T. Bowerman
Innate Cross Immunity of Host Fish to the Parasitic Larvae of Unionoid Mussels, Jolene R. Bowers
The Development of Yiddish Theatre in Czarist Russia : A Study of the Interaction between Majority and Minority Cultures, Catherine I. Bradley
The Rites of Passage of Gifted Adolescents: An Examination of Folk Narrative, Zachary J. Carnagey
Biological Control of Grapevine Crown Gall and Differential Screening of Suppression Subtractive Libraries to Identify Powdery Mildew-Induced Grape Genes, Le Chang
Planar Zero-Divisor Graphs, Jeremy M. Chapman
The Effects of Tailored Word Study on Spelling Performance in Children in Grade 2 in a Title 1 School, Jennifer Coffman
A Systematic Investigation Into the Effects of Carbonation on the Viscosity of Liquids, Jennifer Corbello
Hizb Ut-Tahrir: Preemptively Eradicating the Recruitment Pool For Radical Islamic Terrorist Organizations, Adrienne M. Corson
An Examination of Body Image in Patients Seeking Gastric Bypass Surgery, Megan E. Costello
The Brass Bands Played Too Late: Vietnam Veterans Discuss War, Homecoming, and Life After Vietnam, Tonja R. Cox
In-Stream Habitat and Riparian Conditions of Stream Reaches Favored by Topeka Shiner (Notropis Topeka) on the Tallgrass Prairie National Preserve, John Tyler Cribbs
Gender Bias in Teacher Evaluations, Stephanie M. Davenport
Development of Novel Collection and Biosensor Detection System for Microbial Organisms, Keela Eve Davis
Soil Phosphorus Levels in Residential Lawns and Comparisons among Four Land Uses in Springfield, Missouri, Timothy R. Davis
The King's Brown Daughter, Camille Delaurier
Nurse Practitioners: A Measurement of Job Satisfaction, Esther den Hartog
Potentiometric Surface Decline of the Ozark Aquifer Near Springfield, Missouri, Dayla Dintelmann
The Comparison of Upper Arm and Forearm Blood Pressure, Kathy-Lynn Domiano
Attitudes of Emergency Care Providers Towards Family Presence During Resuscitation, Jerry W. Dorris
Defending the Methods That Defend Us From Terror: U.S. Interrogation Policy and Overcoming Its Negative Implications, Randall C. Downs
American Foreign Policy and Islamic Aggression, Nicholas W. Drummond
Direct Instruction Spelling: A Literacy Intervention For a Child Who Uses Augmentative and Alternative Communication, Britanny J. Drury
Nonlinear Regression Modeling of Data Employing the Gauss-Newton Method, Michael William Edwards
Correlation of Serum and Fecal Estradiol, Progesterone, and Testosterone in Three Species of Captive West Indian Rock Iguanas, Scotti A. Erickson
Conflict and Conformity: The Holy Office of the Inquisition in Colonial Cuba, 1511-1821, Brendan V. Fletcher
Effects of a Priori Knowledge on the Forensic Interviews of Children, Rachel N. Fondren
A Study of Project-Based Education and Real World Application in Mathematics, Sarah Garrison
The Expansionistic Aspirations Of The People's Republic Of China, Nicholas R. Gicinto
The Iranian Threat: Iran's Confrontation With The United States And Pursuit Of Middle Eastern Hegemony, Cameron S. Graham
Nest Emergence and Chemosensory Mediated Predator Avoidance: Two Studies of Behavior in the Red-Eared Slider (Trachemys Scripta Elegans), Matthew D. Green
Geostatistical Analysis of Plant Communities at Tallgrass Prairie National Preserve, Kansas, Jennifer L. Haack
Evaluation Of Gamma-Ray Emissions from Fly Ash, Mary Elizabeth Hall
Molecular Analysis of the Managed Population of African and Asian Elephants, Don W. Harms
House of the Rising Sun: a Glimpse Into the Future of Japanese Nuclear Deterrence, James M. Haynes
Statistical Analysis and Biological Implication of Powdery-Mildew-Responsive Transcriptional Profiling in the Two Vitis Species, Yan He
Al-Qa'Ida and the United States 1979-2001: Lessons Learned, Alex A. Hight
Regulation of CGRP Gene Expression in a Human Neuronal-like Cell Line, DMS 153, William George Hill III
The Utility of Cyberattack as a Tool For Military Operations: The Case of China Vs. the United States, Kip R. Holdridge
The Two Capitals of Islam, Brian L. Hosford
The Effects of Auditory and Sematosensory Feedback on Speech Movements, Marsha R. Howard
Effect of Hindsight Bias and Prevention Material on Post-Traumatic Guilt, Meagan L. Howell
Controlling Creativity: The Power Of Drawing In Children's Literature, Tracy M. Hudgens
Remote Sensing Classification Methods for Monitoring Eastern Red Cedar, Nathaniel J. Huggins
Twilight of the Republic: Security Competition and the American Experience, Michael W. Hull
Comparison of Ethylene Glycol vs. Glycerol and Chukar vs. Chicken Egg Yolk in the Preservation of Stallion Spermatozoa, Rachael M. Humes
Spatiotemporal Patterns of Transitional Landscapes in the Southwest Missouri Ozarks, Teri E. Hunsinger
Why Do Supervisors Avoid Giving Subordinates Feedback?, Megan R. Huss
Survey of Hearing Screeners: Training and Protocols Used in Two School Systems in Missouri, Laurel Imhoff
The Moderating Effects of the Employment Relationship on Reactions to Psychological Contract Breach and Violation, Kyle E. Ingram
The United States-Israel Strategic Relationship, Steve Isaacs
One the West Can Win: A Pragmatist's Approach to Winning the War on Terror, Joshua Jaffe
A Morphological Study of Highly Oriented Pyrolytic Graphite at Atomic Level Using Scanning Tunneling Microscopy, Rakesh N.T.V. Janardhan
Fabrication of MEMS Bridges Using Electron-Beam Evaporated SiO2, Aleksandar Jankovic
An Investigation of the Concurrent Validity of Line-Spread Testing in Measuring the Viscosity of Thickened Liquids, Alisa Johnson
The Effects of Laubach Way to Reading on Students Diagnosed with Cognitive and Behavioral Disorders, Charlie Johnson
Bisphenol A and Obesity, Lara Johnson
The U.S. Government and the Privatized Military Industry: Obscuring the Line Between Public and Private Sector Roles, Michelle K. Johnson
Determination of Mercury (II) and Nitrate Concentrations in Natural Waters Using Ion-Selective Electrodes and Atomic Emission Spectroscopy, Christopher Kabonic
Anne Frank: an Educational Performance Piece for Middle School Students, Darby Kennerly
Investigating Local Motions in Damaged DNA Base Pairs Using Solid State NMR, Monica N. Kinde-Carson
Yitzhak Rabin: the Struggle For War and Peace, 1967-1995, Stephanie Kirk
Reassessing the Russian-American Relationship: How Russia Continues to Undermine American Strategy, Mark A. Klassen
A Biological Assessment of the Fish and Benthic Macroinvertebrates From Two Urban Streams in Springfield, Missouri, Michael R. Kromrey
Classification, Clustering, and Their Statistical Properties, Benjamin J. Lakin
Can I Get a Witness?: Narratives of Disaffiliation as Narratives of Healing Written by Women Who Grew up as Jehovah's Witnesses, Mary Marguerite Langille-Hoppe
The Ideal Subject: Power, Discipline, and Technologies of the Self in American Psycho, Brian Lipscomb
The Effects Trained Peers Have During Storybook Readings With a Child Who Uses Augmentative and Alternative Communication (AAC), Sara L. Lucas
The Relationship Between Energy Loss and Velocity Change in Analyzing Vehicle Collisions, Carla Magee
Academic Achievement and Graduation Rates of Native and Transfer Students in the Department of Agriculture At Missouri State University, Randi L. Manier
Sea Basing: From Concept to Implementation, Venkata Ramana Marata
Colonization of Biofilms in a Freshwater Stream by Fecal Coliforms and Escherichia Coli, Brian R. McMinn
A Comparison of Speech Output Types For a Child With a Developmental Disability, Lisa McNamara
Fault Lines: Ideology, Pragmatism, and Geopolitics in the Islamic Republic of Iran, Travis M. Middleton
Nutrient Loads in an Urban Ozark Watershed: Jordan, Fassnight and Upper Wilson's Creeks, Springfield, Missouri, Ronald B. Miller
Evaluating the Dietary Guidelines: the Development of an Evaluation Tool, Jonathan Mooney
Criterion Validity of the Spelling Performance Evaluation For Language and Literacy (SPELL), Rebecca J. Mooney
The Effect of Nonmagnetic Doping and Growth Temperature on the Magneto-Transport Properties of Manganese and Cobalt Doped Zinc Oxide Dilute Magnetic Semiconductors, Govind Mundada
Effect of Consonant and Dissonant Intervals on Categorization of Emotionally Valenced Words, Billy Jack Myers
Identification and Analysis of a Putative Cell Surface Receptor For C. Elegans Collagen Type IV Using Bioinformatics Tools and RNA Interference Mechanism, Srilatha Nalluri
Theatre Attendance: Media and Interpersonal Communication in Persuasion, Diana Ka Nelson
Use of Fecal Progestins and Androgen to Determine Gender in the North American River Otter (Lutra Canadensis), Tracy Northcutt
The Geography of Daffodils, Rosalie O'Leary
Asoka in the Postcolonial Imagination: Contemporary Ideological Readings of India's Past, Johnathon Parsons
Regulation of CGRP Expression in an in Vivo Model of Temporomandibular Joint Inflammation, Vinit Patil
The Effects on Parenting Readiness and Attitudes of Teens in Response to Caring for an Infant Simulator, Debra A. Price
Goal Framing Effects on Subordinate Goal Processes, Jenene N. Pulley
Over-the-Counter Medication Use among Preschool Age Children, Kathleen Purvis
A Study of Highly Oriented Pyrolytic Graphite and Gold by Scanning Tunneling Microscopy, Praneeth Kumar Ramasagaram
Effectiveness of a One-Day Educational Program for Young Traffic Offenders, Joy Raybourn
How the Missouri Baptist Convention Shifted Their Identity to the Southern Baptist Convention's New Hegemony, David James Rice
Predictability of Staff Risk in a Mental Health Agency, Aaron B. Rimel
Growth And Population Assessment Of Spotted Bass (Micropterus Punctulatus) In Beaver, Table Rock, And Bull Shoals Lakes, Northern Arkansas-Southern Missouri, Jeremy Troy Risley
Thallium(I) Coordination Polymers Based on Monosubstituted Arylcyanoximes, Daniel Robertson
An Investigation of the Effects of Feldenkrais-Based Sensory Movement Techniques on Breathing for Voice Production for the Stage, Jessica Rockwell
Canticles: 5 Songs For Chorus And Orchestra, Jason Salazar
Detection of Fire by Eastern Red Bats (Lasiurus Borealis): Arousal from Torpor, Anna A. Scesny
Ecclesiastes 3:1-15: Reconciling Abjection Within Confinium, Robert R. Schafer
A Creative Project in Costume Design: Escape from Happiness, Dustin Shaffer
Topological Properties and Their Relations, Suchitra Raman Sripada
Predicting Terrorism: Mission Possible, Alan Steinberg
Occupational Nepotism Among Law Firms: A Study of Nepotism Beyond Anecdotal Evidence, Tracy L. Stout
The Relationship Between Teachers' Motivation and Student Achievement, Larry Stuart
Autistic Spectrum Disorders and Camp Barnabas: Therapy or Fun?, Amanda Sundberg
A Sensor for DNA Hybridization Using Fluorescence and Electrical Impedance Detection, Erin E. Sutton
Differential Regulation of Calcitonin Gene-Related Peptide Secretion from Trigeminal Ganglion Neurons by Carbon Dioxide, Carrie Vause
Microwave Plasma-Assisted Chemical Vapor Deposition Reactor: Instrumentation and Implementation for Carbon Materials, Gregory P. Vierkant
Relationships Among the Big 5 Personality Dimensions, Role Stressors, and Work-Family Conflict, Leighann E. Volentine
The Geopolitical Rise of India and the Development of Sino-Indian Relations, David Walgreen
The Role of Fantasy Theme Chaining in Howard Dean's 2004 Democratic Presidential Primary Campaign, Benjamin Ryan Warner
Intracellular Trafficking Of Connexin 43 (Cx43) And Gap Junction Formation In Leiomyosarcoma Cells Following Interruption With Brefeldin A And Cycloheximide, Tammy S. Welchert
Functional Analysis of Off-Task Behavior of Elementary-Age Students with Emotional and Attentional Disorders during Reading Activities, Nicole A. Welch
A Study of Groundwater Movement in the Panther Sink Area, Greene County, Missouri, David M. White
Most Worthy of Interpretation: the Hermeneutics of Personal Perception and Communal Narration in Nathaniel Hawthorne's the Scarlet Letter, Patrick S. Williams
Classification and Prediction of Impervious Surfaces in the Brush Creek Watershed, Missouri, Robert Jonathan Woosley
Hezbollah: Chattel of Deception, Bradley Wyrick
Effect of Tannin Additions on the Formation of Polymeric Pigments in Norton Wine, Jing Zhang
Theses from 2005
Rigid Motions of the Plane, Tina M. Akers-Porter
Introduction to AOT Nanoreactors for the Synthesis of Gold Nanoparticles, David J. Arrant
Factors That Influence the Choice of a Generic Baccalaureate Nursing (BSN) Program, Jan Atwell
Fourth Generation Warfare: America's Challenge in the Twenty-First Century, Leonard A. Backes
Fear Of Failure, Goal Orientation & Propensity To Challenge, Lizabeth S. Barber
Understanding Islamist Terrorism: What It Is and How It Threatens the United States of America, Caleb M. Bartley
The Global War on Terrorism in the Context of Great Power Politics, Jared A. Bickenbach
Nuclear Weapons and Proxy Conflict, Matthew Bowen
The Effects of Student Choice on Achievement and Motivation of Middle School Science Students, Mary L. Brockman
Religion and Politics: Adding a Definition of Religion to John Rawls and Richard Rorty, Mary Brune
Residents' Perceptions of Neighborhood Parks in Springfield, Missouri, Marcelyn Bunch
Characterization and Identification of Putative Collagen Iv Cell Surface Receptors in C. Elegans Through the Utilization of RNA Interference and Bioinformatics, Shannon M. Burcks
Man-Made Constellations, Sara Burge
The Spectroscopic and Electrochemiluminescence (Ecl) Properties of Dipicolinc Acid (Dpa), (Bpy)2Ru2+ (Bpy = 2,2'- Bipyridine) and Electrogenerated Chemiluminescence Quenching of Ru(Bpy)32+ in the Presence of Phenolic Estrogens, Jessica Byrd
United States Army Elite Forces and the Global War on Terrorism, Brian J. Casey
The Quest for Political Legitimacy Within Christian and Islamic Fundamentalist Movements, Kyle Coble
Park Bench in My Head, Joseph Cover
Accommodating the Learning Disabled Student: Building a Learning-Conducive Classroom in Postsecondary Writing Courses, Katherine G. Craft
The Effect of Reproductive Condition on the Thermal and Spatial Ecology of the Female Cottonmouth (Agkistrodon Piscivorus) in Southwest Missouri, Adam L. Crane
The Cicada Summer, Ryan Crider
A Somewhat Different Voice: the Usa Patriot Act, Kara Davis
Acquired and Cross Immunity of Largemouth Bass (Micropterus Salmoides) to the Glochidia Larvae of Unionid Mussels, Benjamin J. Dodd
The Dangers of Chinese Naval Strategy: Why China's Doctrine Makes Nuclear War More Likely, Paul R. Dodge
The Necessity of Active Measures in Counterproliferation, Damian L. Dulski
Centers of Gravity: An Understanding of Clausewitz in the Context of America's Past, Present, and Future Wars, Shane D. Faris
Growth Patterns in the United States: Impacts on the Local School System, Andrea N. Finkbiner
Factors Affecting Ability to Recall and Recognize Product Names: Implications For Legal Liability, Philip J. Finley
Transitory Season, Jami A. Frush
The Synthesis, Characterization, and Biological Activity Studies of Pt(Ii) and Pd(Ii) Disubstituted Arylcy Anoximates, Leon J. Goeden
A Comparison of Embryonic Developmental Rates After Staining With Pkh-26-Gl, Christina D. Gottschall
Battling Words: an Alternative Reading of C.S. Lewis' Til We Have Faces, Robert A. Griffith
A Quasi-Experimental Study to Determine the Effects of Daily Free-Reading on Sixth-Grade Students' Reading Lexiles, Linda M. Grigsby
A Description of Depression in Women Experiencing Infertility, Susan K. Groban
Cognitive Abilities of Low Birthweight Children at School Age, Catherine B. Haddow
Behold These English Dogs!: Englishmen in the Atlantic World Before the Holy Office of the Inquisition, 1560-1630, Michael S. Hale
Electrogenerated Chemiluminescence Quenching of Ru(Bpy)32+ in the Presence of Acetaminophen, Acetylsalicylic Acid and Their Metabolites, Catherine S. Haslag
The Mazmanian-Sabatier Implementation Framework Examined: an Application to Storm Water Policy, Marie Elizabeth Beckmann Hatlelid
Companions on the Journey: Symbolic Interaction in Helping Relationships and the Development of Spirituality For Young Adult Catholics, Mathew B. Herrman
Comparison of Pain Interventions: Distraction Versus Acceptance, Mikaela J. Hildebrandt
A Study to Determine the Effect of the Arkansas Comprehensive School Reform Model on First-Grade Students' Self-Regulation Skills During Writing, Janelle Hintermeister-McBroom
17 November and the Strategy of Deception: Was Golitsyn Right?, Romana Hlouskova
The Relationship Between Body Checking Behaviors and Other Predictors of Eating Disorder Symptoms, Laura B. Hoffman
Sudan: Enduring Issues, Challenges and Policy, Brittany K. Hogan
The Ancestral Memory: George Orwell and the Defense of the Individual Conscience, Michael J. Horton
Comparison of Pre-Yearling, Yearling, and Post-Yearling Ultrasonic Measurements of Body Composition in Brahman Bulls, Tracy D. Jennings
Special Operations Forces: From Reaction to Preemption, Matthew P. Johnson
The Creation and Evolution of the International Terrorist Organization Al Qaeda, Tanner K. Johnson
The Effects of Glochidiosis on Fish Respiration, Brianna E. Kaiser
Generation of Transgene Constructs for Improving Grape Quality and Characterization of two Regulatory Genes in Vitis Species, Brijesh Karakkat
Saudi Arabia: Friend or Foe, Jacob R. Karn
Growth and Characterization of Inorganic/Organic Spintronic Devices, Temitope O. Kassim
Urban Insurgency and the Search for a Solution: United States Counterinsurgency Strategy for the Twenty-First Century, Andrew C. Katen
Efficacy of Career Counseling in a University Setting, Tracy A. Keaton
Effects of Ecological and Geographical Barriers on Homing in Three-Toed Turtles, Terrapene Carolina Triunguis, Roy L. King
The Future Force and Insurgents: A Need For Balance in Force Transformation, Stephen D. Klow
Points and Curves in Affine Space, Daniel R. Kopsas
Jordan Creek Baseline Water Quality Project: Development of Analytical Methods, Mary E. Krause
Defending American Credibility: The U.S. Commitment to the Republic of South Vietnam, Dinh M. Lai
The Defeat of the 1914 Missouri Woman Suffrage Initiative, Lynn Michele Lansdown
Foliar Herbivory on Understory Oaks as a Function of Forest Type and Prescribed Burning, Pamela L. Lucas
Geospatial Analysis of Gravel Bar Deposition and Channel Migration Within the Ozark National Scenic Riverways, Missouri (1955-2003), Derek J. Martin
Uncle Sam's Web-Feet: The Evolution of U.S. Naval Special Warfare, John G. Martin
A Vision for the Future: A Religious Application of Symbolic Convergence Theory, Sam A. Mathews
The Conflict in Kashmir, Izaias P. Matos
Construction and Characterization of Erbium(III) Porphyrin-Based Polymer Membrane Electrodes for the Determination of Benzoate Anions, Joseph K. Mbugua
Aging and Women's Relationship With Women in the Context of U.S. Beauty Culture, Sarrisa J. McClure
Deadly Science: Biological Weapons and the Threat to America, Donovan R. McKeown
Ecophysiology of Hibernating Eastern Red Bats (Lasiurus Borealis), Miranda B. Milam-Dunbar
Contemplating a Different Beauty: Perceptions of Attractiveness and Impression Management in Performance Evaluations, Matisha D. Montgomery
Gamla: A Question of Ultimate Sacrifice, Joe K. Moore
Winter Roosting Ecology of Red Bats (Lasiurus Borealis) in Southwest Missouri, Brad M. Mormann
Finding the Cure: the New Challenges to Biological Warfare, Jacquelyn B. Moseley
An Introduction to Singularity Bifurcations, Jeremy Nation
Step-Pool Morphology of a Wilderness Headwater Stream of the Buffalo River, Arkansas, Aaron M. Nickolotsky
Effects of Classroom Diversity Training on Appreciation of Similarity and Difference, Sarah D. Niere
Applied Multivariate Statistical Methods, Aaron Nieuwsma
The Effectiveness of Two Visible Elements of the Kodã¡ly Method in Second Grade General Music: Rhythm Syllables and Solfa/Hand Signs, Krista L. Noland
Physical and Biological Impacts of Gravel Mining on Three Southwest Missouri Streams, Todd B. Parnell
Molecular Beam Epitaxy-Installation, Vacuum Generation and Growth, Hemanth Kumar Parsa
The Description of Asthma Management Activities and Responsibilities of Children and Their Parents, Jennifer L. Passanise
Effect of Clothing Size on Women's Body Image, Self-Esteem and Mood, Sonal Patel
Altering Ion Transport Across Alumina Nanotube Membranes, Sai Sumana Penumetcha
The Imperium Americana Paradigm: Reshaping the International System, Steven D. Peterson
Relationship Between Cattle Cash and Futures Markets, Rachel Anne Postin
The Effectiveness of Using Web-Based Pre and Post Laboratory Activities to Implement Student Active Strategies For Introductory Chemistry Laboratories, Kimberly A. Redinger
Things That Send Women Running, Candice B. Richards
Girl Talk: A Multi-Genre Coming of Age, Leslie Richardson
Health-Related Quality of Life in Fibromyalgia: A Descriptive Study, Laura D. Richter
Mercury Contamination Of Channel And Floodplain Sediments In Wilson Creek Watershed, Southwest Missouri, Willard E. Rodgers II
A Descriptive Study of Parents' Perceptions of Services For Their Autistic Child, Michelle Rush
Acorn Contribution to Mammalian Energetics, Cecilia Corinne Schoppet
Media Influence on the Political Decision Making of College Students Aged 18-25, David W. Schultz
Containment of China: an Analysis of Future U.S. Relations With India and Taiwan, John R. Schweighardt
Mind the Gap: The Failure of the Central Intelligence Agency to Support U.S. National Interests, Glenn W. Scrima
Morley's Trisector Theorem, Carolyn H. Shand-Hawkins
Japanese Theater Missile Defense: Impact on North East Asia, Justin M. Sinclair
Creating the Exotic East: Romantic Literature, Orientalist Scholarship, and the Colonial Construction of the East, Martha Smith
Accepting the Unacceptable: Textual Accessibility in Baum's Oz Books, L'Engle's Time Quartet, and Rowling's Harry Potter Series, Melissa Smith
The Internet's Impact on Journalism, Paula J. Smith
The Dragon in the Backyard: Chinese Strategy in Latin America, Stephen B. Smith
Developmental Advisement and Goal Theory: Enhancing Student Motivation and Goal Achievement, Kelly R. Sowers
War Continued by Other Means: The Politics of Religion And Violence, Jean A. Stalhood
A Constructive Approach to the Inverse Galois Problem Over the Rationals, Branden R. Stone
Separation That Autumn Way, Joshua Stroup
Information and the Limits of Air Power, Benjamin R. Styring
Processing and Fabrication of Polyaniline Micro-Devices Using Photolithography, Shabana Sultana
The Impact of Personality and Social Support on Work-Family Conflict and Stress, Jessica M. Thomas
The Effect of Protein Kinase C Inhibitors on Desensitization of the Murine P2Y2 Receptor, Dana K. Tucker
The Relationship Between Demographic and Academic Variables, Mathematical Self-Efficacy, and Dosage Calculation Performance Among Associate Degree Nursing Students, Susan J. Verwey
Harnessing a Revolution: the Development and Strategic Implications of United States Military Transformation, Daniel B. Weinstein
Russia's Strategic Nuclear Weapons Programs and Their Role in Russian Grand Strategy, Daniel A. Wenk
The Value of Study Abroad: Intended Outcome Goals and Evaluation Instruments of the High School Study Abroad Industry, Jennifer L. Wiley
Behavioral and Metabolic Responses of the Southern Red-Backed Salamander (Plethodon Serratus) to Predatory Stimuli: Influence of Body Size, Nathan L. Windel
Self-Handicapping Strategies And Success Of College Students In a Developmental Mathematics Course, Marissa Wolfe
United States Alliances With Australia and Japan in the Twenty-First Century: a Look At United States Grand Strategy For the Greater Asia-Pacific Region, Samuel R. Wood
Environmental Assessment of Jordan Creek Watershed Using Bed Sediment Quality and Macroinvertebrate Indices, Springfield Missouri, Daniel J. Wurglitsh
Transcendental Numbers, Fan Zhou
Theses from 2004
Visual Processing: Heart Rate Differences Between Low and High Reading Ability Adults, Anna M. Abbacchi
Development and Validation of the Male Body Size and Shape Inventory (Mbssi), Brittany J. Allen
Composing While Learning - Achieving While Writing: A Proposal For Process Teaching And Portfolio Assessment For Basic Writers At SMSU, Kelly E. Anthony
Savanna Restoration Through Prescribed Fire: Demographic and Physiological Responses of Oak and Hickory Seedlings and Saplings to a Changing Light Environment, Douglas P. Aubrey
A Psychological Evaluation of the Performance Text of the Morality Play in Relation to the Black Death, Kevin Babbitt
Governing Interests: Structured Interest Maximization as a Construct For Choice Dynamics, Leslie J. Bass
In Jericho's Shadow: U.S. Border Security Strategy to Counter Nuclear Terrorism, Jason S. Bauer
Evaluation Of CGRP And VIP As Biological Markers In Activation Of Trigeminal And Parasympathetic Nerves In Response To Sinus Symptoms, Jaime L. Bellamy
Integral Basis of Pure Cubic Fields, Kristen Bieda
Survey of Knowledge About Antibiotics and Their Use, Ellen Bivens
The Bioethical Beliefs of College Students Age 18-21 and the Influences That Shaped Those Beliefs, Stephanie A. Blake
The Effects of Masking and Bite Block Placement on the Speech of an Adult With Verbal Apraxia: a Pilot Study, Dana E. Boatman
The Planarity of Hasse Lattices of Finite Groups, Joseph P. Bohanon
Consequences of Reservoir Drainage on Downstream Water Chemistry, Suspended Sediment, and Nutrients, Southwest Missouri, Mark W. Bowen
A Comparison of Summer and Winter Roosting Habitat and Behavior of Evening Bats (Nycticeius Humeralis) in Missouri, Justin G. Boyles
The Effect of Temperature and Digestion on Metabolism in Black Rat Snakes, Elaphe Obsoleta Obsoleta, April M. Brennan
Electrochemiluminescence of Ruthenium (Ii) Bis-Bipyridine Acetylacetonate Type Complexes, Sean C. Brooks
Measurement of Quality of Life in Adults With Dysphagia, Ashley Burnett
Inter-Rater Reliability of the Functional Communication Measures: a Pilot Study, Amy L. Butler
Designing, Building and Testing of a Polymer Evaporation System, Adnan K. Butt
What Makes It Pop?: an Analysis of Selected Pop Songs, Matthew A. Cobb
The Promise of Things to Come, Dan Cogell
Web Site Privacy Policy Statements: How They Impact Consumer Trust, John R. Criswell II
An Evaluation of a Self-Regulation Based Academic Recovery Program, Logan R. Dale
Reasons Students Choose Or Hesitate to Choose Nursing as a Career, Teresa F. Davis
Voicing Our Concerns and Being Heard: Social Service Employees' Communication Experiences of Crisis, Rachel M. Deibert
Effect of Processing Method and Extender on Motility and Fertility of Chilled Stored Stallion Spermatozoa, Carlina L. Dekat
Auditory Evoked Potentials in Speakers With Apraxia of Speech, Shelby A. Dellheim
Patriarch as Trickster: the Social and Literary Function of the Jacob Cycle in Genesis 25-33, Brian R. Doak
Ad Astra: Space and U.S. Geostrategy, Scott E. Doxtator
Quagmire: the Strategic Implications of a Failed State in Colombia, Andrew R. Draffin
Green Ash, Kevin Drzakowski
Reproductive Endocrinology and Musth-Behavior of a Captive Male Asian Elephant (Elephas Maximus), Connie Duer
The Male Nurse and License Discipline in Missouri, Anita L. Evangelista
Habitat Selection By Cavity-Nesting Songbirds Utilizing Artificial Nest Boxes Below High-Voltage Power Lines, Shannon L. Faller
Environmental Education's Effects on the Attitudes, Knowledge and Concern For the Environment Among Secondary Students, Kimberly A. Fields
English Theatre in Cairo, Egypt: Dialogue and Resistance, Jessica A. Franklin
Hezbollah's Global Outreach Program, Marlene A. Fuller
The Fair Wind, Brandon Funk
The Dominion of the Bear: the Kremlin's Strategy in the Southern Tier, Damon J. Gabriel
What Shall I Answer?: The Interrogatives Of William Blake's Jerusalem, Luke V. Gibbs
Experience With Chemical Cues Influences Subsequent Behavior of Rainbow Darters, Etheostoma Caeruleum, Angela Gibson
Safety of Missouri Middle School Science Facilities, Gregory S. Gillham
Obstacles For Developing Alternative Transportation Systems in Springfield Missouri Area, Adriana Giraldo
The Effect Of C-Terminal Tail Mutations On Desensitization Of The Murine P2Y2' Nucleotide Receptor, Hillary M. Glauser
Security Council Reform in the Context of Global Policy, Olga E. Gordon
Japan's Efforts in Missile Defense, Jeff I. Grigore
Investigating the Effects of Vinclozolin on Reproduction in Three Generations of Sigmodon Hispidus, Barbara J. Hannah
Structure And Characteristics Of The Small Lodging Businesses In Branson, Missouri: A Survey-Based Study, Kazi N. Haque
Practices and Attitudes Toward Inclusion of Children and Youth With Emotional and Behavioral Disorders, Lyn Harris
Chinese Missile Sales to the Middle East, Rachel E. Hollrah
The Transformation of U.S. Army Attack Aviation and Its Struggle For Relevance After the Cold War, William K. Jakola
Polka Dancing and Poppyseed Kolache: How Czech Families View Their Ethnic Identity, Kai M. Janovsky
An Intervention to Improve Critical Thinking in Nursing Students, Kathryn M. Jones
Off-Line Data of the 6He +209Bi Breakup Reaction Utilizing an Interactive Data Language (Idl) Data Analysis Package, Scotty R. Jones
Communicating Risks: an Exploration of Uncertainty and Satisfaction in Dentist-Patient Interaction, Timothy R. Jump
Recondite Reading: William Gaddis's Carpenter's Gothic and the Difficulties of Late Modernism, Andrew P. Karr
Effects of Leadership Self-Efficacy on Goal Structures, Kimberlee M. Kassel
Awakened Lambs: Jewish Armed Resistance in the Ghettos, 1939-1944, Gregory A. Katzin
The Effects Of Instructional Tools On The Mathematics Achievement Of Intermediate Algebra Students, Deborah R. Kemp
Cryopreservation of Asian Elephant Semen (Elephas Maximus) in Conjunction with the Use of Spermac Stain to Evaluate Acrosome Status in Both Asian And African Elephants (Loxodonta Africana), Wendy K. Kiso
Personality and Collaboration in the College Composition Classroom, Jeffrey M. Krakow
An Evaluation of Academic Honesty Attitudes, Behaviors and Correlates, Lindsey A. Kufahl
Habitat Use and Spatial Ecology of Blanding's Turtle, Emydoidea Blandingii, on Squaw Creek National Wildlife Refuge, Mound City, Missouri, Lisa Lehnhoff
An Investigation of the Electrochemical, Spectroscopic, and Electrochemiluminescent Properties of Platinum Ii Octaethylporphyrin Including a New, Experimental System For Testing Hydrophobic, Light-Emitting Molecules, Toby R. Long
Israeli Theater Missile Defense Systems, Brent A. Lord
Synthesis, Characterization and Anti-Cancer Properties of Organotin(Iv) Cyanoximates, Tiffany R. Maher
A Sitting Army?: Narrative, Presence, and Persuasion in the America's Army Computer Game, Shawn Maxfield
To Strike Such Terror: Post 9/11 U.S. Counterterrorism Strategy, Karen L. McCaulley
Augmentative and Alternative Communication Services For Children From Multicultural Backgrounds With Severe Communication Disorders, Vanessa A. McFall
United States Biodetection Capability: a Study of Structure, Capability, and Appropriateness, Kate D. McMechen
Zooplankton Species Composition and Diversity in Floodplain Ponds: Effects of Flooding and Local Site Characteristics, Kim A. Medley
Revisiting The Eastern Question: A Strategic Imperative For U. S. National Security In The Northern Tier, Daniel E. Miller
Physiological And Phylogenetic Characterization Of Three Psychrophilic Marine Bacteria, Brinnon L. Morrison
The Effects Of Heightened Emotion On The Verbal Fluency Of An Adult With Non-Fluent Aphasia And Apraxia Of Speech: A Pilot Study, Pauline Muhoho
The Effect of Increased Heart Rate on Memory and Performance of a Motor Sequence, Keri L. Nichols
Participation Motivation of High School Cross Country Runners, Adam O'Hara
Explorations in Automorphism Groups, Jeremy A. Osborne
Lead, Zinc And Cadmium Content In Structures In Jasper And Newton Counties, Missouri, Jeffrey W. Pavlik
Pesticide Effects On Endocrine Function, Metabolism, And Thermoregulation In 13-Lined Ground Squirrels (Spermophilus Tridecemlineatus), Jean A. Perry
A Continuous Story Of Wrongs And Outrages: The First Arkansas Union Cavalry, Michael L. Price
NATO and Kosovo: Great Expectations, Great Failures?, Boris Proepping
Evaluating The Effectiveness Of An Issues-Based Curriculum On Student Knowledge And Attitudes Toward Amphibians, Whitney B. Rapp
Predatory Strike Behaviors Of The Western Cottonmouth, Agkistrodon Piscivorus Leucostoma, William M. Ray
Effects Of Combinations Of Para-Hydroxybenzoic Acid And Boron On Growth And Mineral Content Of Velvetleaf, Melissa A. Remley
The Yoshida Doctrine Revised: Japan's Shifting Foreign and Defense Policy and Its Implications For America, Joshua P. Rowan
Integrin Distribution in Collagen Iv Mutants and Use of Rna Interference to Identify a Collagen Iv Receptor in C. Elegans, Umme Rumana
Effects of Liquid Base, Time, and Temperature on Viscosity, Karen Sandridge
Remodeling Beth, Ruth C. Schafer
Developing Salicylate-Selective Polymer Membrane Electrodes Based on Lutetium (Iii) Porphyrins, Stacy W. Scranton
Post-Cold War Economic Espionage in the United States, Chiradeep Sen
A History of the Coterie Theatre and Its Contribution to Theatre For Young People, Patricia Sentlinger
Alluvion, Jenner T. Shaffer
Spatial Ecology and Habitat Use of the Western Fox Snake (Elaphe Vulpina Vulpina) on Squaw Creek National Wildlife Refuge, Justin J. Shew
Development and Analysis of Some Mathematical Models in Population Biology, Angela D. Shreckhise
Electrochemiluminescence of a Lead Bromide Cluster, Pavneet Singh
Comparative Measures of Viscosity of Thickening Agents, Ronda K. Smith
Concepts Of Ethics In Public Relations Management: A Practitioner's Perspective, Stephen T. Smith
Dissecting The Process Of Dissection: A Comparison Of Animal Dissection And Computer-Generated Dissection With Middle School Students, Kris Spencer
Exploring The Impostor Phenomenon Affective Cognitive And Social Correlates Of Perceived Fraudulence, Layla R. Stanek
Investigation Into the Reasons Students Stay in Band, Amy Steinkuehler
Mercenaries in History and the Modern Era: Impact of the Privatized Military Industry on U.S. Security Interests, Christos N. Stephanides
The Effects of Goal Orientation on Responses to Feedback, Erin K. Stinson
Comparison of Three Computer Access Systems: Speech Recognition, Morse Code, and Scanning, Kevin Stockton
Production Of A Functional Collagen Type IV:: GFP Fusion Protein Reporter Construct In Caenorhabditis Elegans, David K. Stone
Manifold, Benjamin Strohmeyer
Images of Change: Language and Power in the Works of Toni Morrison, Laura L. Taylor
The War on Terror: Implications For the Future of U.S. Relations With France and Germany, Thomas S. Tholen
Comparison of Two-Dimensional Ultrasound and Three-Dimensional Ultrasound in Fetal Sexing of Cattle, Brady D. Timmerberg
Roost-Site Selection of Bats in Northeast Missouri With Emphasis on the Endangered Indiana Bat (Myotis Sodalis), John C. Timpone
Fall Prevention Pilot Project in the Elderly, Deborah A. Upton
Gender Biases Within the Beck Depression Inventory-Ii Among Clinicians-In-Training, Jennifer M. Wagner
Judgments of Responsibility of Sports Injuries Based Upon Level of Athletic Identification, Megan D. Weaver
Improving Students' Performance By Implementing Motivational Learning Strategies And Constructivist Teaching Methods, Michelle Wityk
You Never Lived the Life You Remember, Ashlei Woelk
A Face That Looks Like Yours, Sam Woelk
The Effectiveness of Using Conceptual Change Interactive Lecture Demonstrations to Address Misconceptions in Introductory Chemistry Courses, Crystal A. Wood
The Bear Next Door: Russia and the Near Abroad, Jaimy M. Wood
The Effect of Music on the Mathematics Achievement of Third-Grade Students, Julia Young
Molecular Studies Of Virus-Induced Gene Silencing In Nicotiana Benthamiana And Six Defense-Related Genes In Grapes, Xueyan Zhong
From Modern Prometheus To Modern Persephone: The Evolution Of Archetypal Myth From Mary Shelley To Virginia Woolf, Wanda L. Zimmerman
Theses from 2003
How Do Ethnicity, Age, and Insurance Coverage Affect Dental Use Patterns in Children?, Elizabeth K. Adams
To the Shores of Tripoli: The Libyan Threat to the United States of America, Jon S. Aldridge
Biology of the Rare Woodland Perennial Trillium Pusillum Micheaux (Liliaceae) in Southwest Missouri, Cynthia S. Andre
Effect of Annealing on Magnetic and Magnetotransport Properties of Dilute Magnetic Semiconductor Ga(1-X)Mn(X)As, Mohammad A I Arif
Hidden Markov Models and Some Applications in Bioinformatics, Maryam Alyasin Arvizu
It Comes and It Goes: the History of Professional Baseball in Springfield, Missouri: 1887-1950, Rusty D. Aton
Enemies of Mankind: the Developing Threat of Modern Maritime Piracy and Terrorism, Scott Banker
SMSU Graduate Student Handbook, Heather Barbre
Ability to Identify Emotion and Infer Motive in Evaluative Interactions: a Function of Expertise?, Michelle A. Bauman
Telling the Truth: How Journalists Believe a Story is Told Truthfully, Missy Belote
Perceptions of Gender Differences in Filicide, Kimberly J. Benoit
Waves of Cement, Jeremy Beussink
Captured Image: Creating Textual Images of First Peoples, Jeriel E. Bingham
Globalization: From a Political, Economical and Cultural Perspective, Robert Bohuslav
A Comparative Analysis of the Role of Communication Studies in the Freshman Seminar Course, Teri D. Buell
Effect of Pyruvate on Motility of Spermatozoa from Different Stallions After Storage at 5°C for pp to 72 Hours, Clay A. Cavinder
Effect of Emb-9 and Let-2 Mutations on the Proper Assembly of Basement Membranes and on the Morphology of Body Wall Muscle Cells in Caenorhabditis Elegans, Libia Chandler
Attitude Change Over Time: A Study of Adjacent Landowners Along the Frisco Highline Greenway Trail, Greene and Polk Counties, Missouri, Stephen C. Childers
Hindsight Bias and Choice: Understanding Hindsight Bias and Perceived Control, Maria Ciaramitaro
Nymphophiline Phylogenetic Relationships Based On Mitochondrial DNA Sequences, Kayla Clift
The Effects of Triton X-100 (Polyethylene Glycol Tert-Octylphenyl Ether) on the Tris(2-Phenylpyridine)Iridium(Iii)-Tripropylamine Electrochemiluminescene System, Christopher A. Cole
Personality Correlates of Treatment Mode and Later Usage in Violators of Campus Alcohol Policies, Kimberly L. Conrad
Interview and Questionnaire Techniques to Assess Free-Set Goals: Relationships With Depression, Ingrid Berger De Tesouro
America the Vulnerable: Terrorist Threats Using Biological and Chemical Weapons, John E. Dryhurst
A Comparison of the Index of Biotic Integrity by Habitat Type in Swan Creek, Southwest Missouri, Shane Dunnaway
Reproductive Biology and Host Requirement Differences Among Isolated Populations of Cyprogenia Aberti, Nathan Eckert
The Synthesis, Characterization, Spectroscopic and Biological Activity Studies of Pt(Ii) and Pd(Ii) Cyanoximates, Daniel B. Eddings
Gender Equity Within Faculty Salaries at Southwest Missouri State University, Melanie Fischer
The Politics of Language and Writing: Multiculturalism and Other Socially Constructed Issues in the College Composition Classroom, Cynthia K. Fletcher
Clausewitz and Counterproliferation: Defeating, Deterring and Disarming Rogues Possessing Weapons of Mass Destruction, Stephan C. Fruehling
Construction of Chain-Link Hydrogen Bonded Capsules on Self-Assembly of C-Methylcalix (4) Resorcinarene with Bispyrimid Ligands, Ivan G. Georgiev
Dialectics in Intercultural Communication: a Study of Interactions Between Latinos and Anglos in Southwest Missouri, Allison R. Gleghorn
Job Stress: Affects [i.e. Effects] on Job Satisfaction Among Registered Nurses in a Hospital Setting, Andrea Gramling
A Case Study Exploring the Use of Evocation to Enhance the Reading Comprehension of Special Needs Students in the Fifth Grade, Shirley A. Gregory
The Effect of Positive Items in the Assessment of Mood, Chester E. Harrison
Differential Diagnosis of Attention Deficit Hyperactivity Disorder and Bipolar Disorder in Children: Can Clinicians Differentiate?, Jessica A. Heavin
Speculative Economic Ideology and Dramatic Strategies in Susanna Centlivre's the Basset Table and the Busy Body, Heather Hicks
The Effects of an Interpretive Center on Knowledge and Attitudes of Grassland Habitats at Prairie State Park, Michelle L. Hoffman
Sustainable Alternative Tourism: Homestay In Mea Kampong Village, Thailand, Nutravee Hokchun
Channel Geomorphology And Restoration Guidelines For Springfield Plateau Streams, South Dry Sac Watershed, Southwest Missouri, John M. Horton
Predicting Beef Tenderness Using Ultrasound Technology, Jason V. Howard
When Saints Speak: Stories of Spirituality From Senior Southern Baptists, Chad T. Johnston
The Soviet Prosecution At Nuremberg and Its Relation to Nazi Collaboration in Ukraine, Douglas N. Jones
The Effects of Bridge Crossings on Fish Assemblages in a Southwest Missouri Stream, Matt Keener
Ambient Temperature Effects on Metabolism and Body Composition in Torpid Bats (Myotis Lucifugus and Pipistrellus Subflavus), Scott A. Kelly
Food, Flesh, and Fervor: Perfecting the Ascetic Body in Tertullian's De Ieiunio, John R. Kennedy
Resolving a Cryptic Species Complex: Application and Utility of Mitochondrial 16S and Nuclear Its1 Molecular Markers in Pyrgulopsis Micrococcus, Steven Kepes
Effects of Media Ph on Growth and Nutrient Content of Two Grape Cultivars, Maru K. Kering
Seed Dispersal by Aquatic Turtles, Jeffery B. Kimmons
The Online College & University Staff Handbook: A Comprehensive Style Guide, Jonathon Kitchin
Effects of Writing About Trauma and Best Possible Future Self on Health and Mood, Ihori Kobayashi
Effects of Air Versus Ground Transport on the Interfacility Transfer Patient, Vickie M. Lagergren
The People's Republic of China's Preeminent Power Ambitions: An Assessment of Its Maritime Efforts, James P. Lambert
The Russian-Iranian Alliance: Increasing the Threat from Iran to U. S. National Interests, Tracy L. Langedyk
Analysis of a Proposed Cell Binding Site on Caenorhabditis Elegans Collagen Type Iv, Lori G. Langiano
History of Sedimentation and Contamination in Valley Mill Reservoir, Springfield, Missouri, Susan S. Licher
Examining the Role of Popular Music in Education: a Quasi-Experimental Study Investigating Retention in Rural Southwest Missouri Middle Schools, Daniel Ligon
Symphony No. 1, Derek Limback
Eating Disorders and Alcohol Use in College Women, Amy E. Lunn-Shell
Our Day Will Come: The Politico-Military Strategy of the Irish Republican Movement, 1916-2002, Christopher P. Marcoux
Tom Stoppard and the Modern Shakespeare: Constructing Modernist Meanings, Sheri L. McCord
An Investigation of the Use and Effect of Literacy in Industrial Technology Curricula, Zach McMains
A Study of the Effect of Herbicides on Mycorrhizae Associated With Native Warm Season Grass, Kendra Medley
Gender Differences in Judging the Severity of Traumatic Events, Erin Menczer
Activities Within a Myotine Bat Community With Emphasis on the Endangered Indiana Bat, Myotis Sodalis, Matthew N. Miller
Porpora's Grail: A Study and Analysis of Nicola Porpora's Vocal Instruction, Katrina L. Mitchell
For-Profit Or Not-For-Profit?: An Empirical Analysis Of The Rural Hospital Conversion Process, Sheila A. Mitchell
The Effects of Goal Difficulty and Self-Evaluation on Mood, Noah J. Mosier
The Effects of Land Use on Tumbling Creek Cave in Taney County, Missouri, Holly Neill
Goal Orientation and Responses to Negative Feedback, Jaime B. Nejdlik
Some Probability Methods For DNA Sequence Analysis, Justin D. Nguyen
A Qualitative Case Study to Determine Third Grade Students' Perceptions of how Graphic Organizers Impact Their Reading Comprehension, Linda Noble
A Test of Self-Regulation Training in a Collegiate Academic Setting, Elizabeth O'Dell
Time-Resolved Monitoring of Water Quality in Ozarks Springs During Storm Events, Ronald O. Obiyo
America's Provocative Weakness: the U.S. Policy of Vulnerability to Ballistic Missile Attack, Chrisopher A. Olderog
Laughing in the Void: Comic Elements in Joseph Conrad's Tragic Vision, Matthew E. Oliver
Phosphorus Contamination and Storage in Bottom Sediments of the James River Arm of Table Rock Lake, Southwest Missouri, Marc R. Owen
Temperature Dependent Electrical Characterization of an Ion Implanted Metal/Polymer Matrix, Rishi J. Patel
Expressed Sequence Tag and Rna Hybridization Analysis of Phenol Biosynthesis Genes in Grapevine, Turlapati V. Phanikanth
Collaboration in the Writing Classroom: a Study of Thai University Students, Piyawadee Piyarutchanunt
The Conflict in Kashmir: Down the Corridor of Uncertainty and Unrest, M Nabeel Qureshi
Congestive Heart Failure, Social Support and Depression in Women, Katherine M. Rains
Arsenic, Chromium, Copper, and Lead Enrichment in the Sediments of Prairie Creek in the Ava, Missouri Area, Christopher Reed
Population Dynamics and Foraging Behavior of Gray Bats in Pittsburg, Ks, Scott M. Robertson
War With Chinese Characteristics: Chinese Intelligence Operations Against the American Target, Jay R. Rodgers
Coliforms, Salmonella, and Shigella in the James River Basin, Tamara Rose
Communicating Culture: the Termination and Restoration of the Klamath Tribes, Robyn A. Rowe
Retouching History, Paul C. Schreiber
Design and Synthesis of Nitrogen Containing Heterocyclic Ligands and the Formation of Coordination Complexes and Networks, Nate C. Schultheiss
Counterinsurgency Lessons From Algeria and Columbia, Christopher S. Seamster
Temporal Analysis of Floodplain Deposition Using Urban Pollution Stratigraphy, Wilson Creek, SW Missouri, Kathy A. Shade
A Computational Investigation of the Addition of Water to (24E)3A, 7A, 12A,-Tri Hydroxy-5B-Cholest-24-Enoyl-Coenzyme A, Danielle R. Smith
Polypharmacy Issues in Senior Citizens, Teresa N. Sondermann
A Mixed-Design Study Investigating the Benefits and Perceptions of a Teacher-Guided Summer Literacy Program, Amber J. Strader
The Biosynthesis of Bile Acids in the Fire-Bellied Toad, Bombina Orientalis, Kaiyan Tang
Sperm Production and Larval Development in Hellbenders (Cryptobranchus Alleganiensis Alleganiensis And C. A. Bishopi): A Comparison of Declining and Stable Populations, Shem D. Unger
The Effect of Repeated Read-Aloud Strategy on Preschool Children's Reading Comprehension, Angela Van Deren
Influences of Auditory and Somatosensory Feedback on Vowel Production, Lindsay A. Wallace
Enhanced electrochemiluminescence from Os(phen)₂(dppene)²⁺(phen = 1,10-phenanthroline and dppene = bis(diphenylphosphino)ethene) in the presence of Triton X-100 (polyethylene glycol tert-octylphenyl ether), Jason Walworth
Preparation and Characterization of Magnetic Nanocomposite in a Polymer Matrix By Ion Implantation, Michael J. Weigand